The other day I visited T daycare center on the outskirts of Tokyo where both children with and without a disability play together and inclusive childcare is practiced. Inside the facility, there are corners where children can hide when they wish to be alone. In fact, during our visit, one child who did not want to participate in group activities at the time was playing with another teacher there. In the corridor just outside the room, there are also small private rooms like closets where children could hide (See photograph). When a child does not want to stay in the room and the teacher gives permission to leave, the child can stay in the small private closet-like space. The walls of the daycare center, which tend to be decorated with children's works and colorful pictures in most facilities, had been very simply constructed to encourage and enable the children to focus on their activities.
At a meeting after the visit, the principal made a striking comment and emphasized the particular importance of "creating a place for children to escape" when providing inclusive education. I was excited to hear him say that, as I felt he hit the nail on the head -just what I had always thought.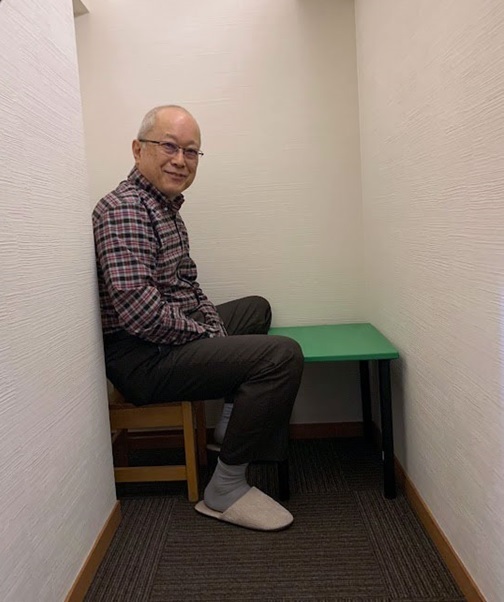 The author tries "hiding" in a corner for children who want to be alone.
Why did I feel he hit the nail on the head? Let me explain. During my long experience of treating children with disabilities, parents and educators have endlessly told me that "small classes are better for children with developmental disabilities." When I ask the reason, the answer is usually "because it is easier to keep an eye on each child." ECEC and kindergarten teachers would probably answer that watching over (mimamoru) children is the basic principle of ECEC.
However, I have strongly felt that children in childcare facilities or school (particularly elementary school) not only learn from their teacher, but also from the children around them. For example, infants who show slow speech development will sometimes quickly increase their vocabulary as soon as they enter daycare center or kindergarten, and this is attributed to the large influence of other children in the environment. Compared to classes with a small number of students, the influence of other children is greater in terms of both quality and quantity in large classes with a diverse group of children.
The idea that small classes are good is based on the view that most learning in childhood takes place through communication and interaction with the teacher. Of course, it is a fact that most teachers feel responsible for advancing their students' education and focus on achieving this every day, but children also learn and grow through interaction with other children, not just their teacher.
Although it also depends on the type of developmental disability, many children who show such signs experience various difficulties in social relationships. In small classes, some may experience stress that is attributed to "being under the constant protection and care" of daycare staff and teachers. Nonetheless, some may say that being surrounded by many non-family members would create more difficulty than being in a smaller-sized class. As a matter of fact, being surrounded by a large number of children would serve as a kind of buffer between them and the childcare workers or teachers, which would have an ameliorating effect and act as go-betweens for them. Blending in the crowd can be a harbor for children who have developmental disorders.
Imagine how the relationships between students and teachers are in lectures for large groups of students held in a large room like a college lecture hall and that in a small seminar class. Lectures in large halls tend to take attention away from the lecturer and make it possible for students to blend in the crowd and take a nap (I often did that as a student, too). Furthermore, even if you don't not understand the teacher's questions, you can learn from the answers of other students. However, is that possible in seminars with only a few students? You always have to be alert.
So, what is your view? This might be a somewhat pushy invitation, but I felt that the principal's statement about making a place where children can escape is one that supports and sustains my idea that "For children with developmental disabilities, small classes are not necessarily better than a class with a large number of students."