As introduced on our website, Child Research Network Asia (CRNA) conducted a questionnaire survey last year on the various factors that influence the resilience and well-being of children in eight countries in Asia. Some of the results were announced at the international conference of the OMEP (Organization Mondiale pour l'Éducation Préscolaire, or in English, the World Organization for Early Childhood Education) held in Athens, Greece on July 13-15. As of spring this year when the trajectory of the COVID-19 virus was not clear, announcements were conducted in a hybrid manner, that is, both on-line and on-site. Due to the increasing number of cases by the Omicron variant, I had basically given up the possibility of on-site presentation and started preparing an on-line one. However, around May, OMEP announced that there would only be on-site presentations.
Most countries in Europe and North America no longer require the wearing of masks, and while many cases are infections of the Omicron variant, few are in serious condition. Considering this, Japan's measures against the new COVID variant appeared to be too strict to me, and with little hesitation, I decided to go to Athens. To travel to Europe, I hurriedly had a vaccination certificate made in English, but at the time of my departure date, July 12, a certificate was no longer required to enter Greece, a member of the EU. The quarantine and customs clearance at Haneda Airport were completely the same as prior to the COVID-19 pandemic. As expected, we were requested to wear a mask in the airplane, but even at the airport in Munich, Germany during a stop-over to Athens, quarantine was not enforced. After disembarking at the Munich airport, I was first surprised that except for airport and restaurant staff, almost no travelers in the airport were wearing masks. At that moment, I also realized that Europe had truly returned to a pre-COVID-19 phase. I arrived at my hotel in Athens just after noon, 2 to 3 hours before check-in time, and since it was just next to the famous Acropolis, I went to visit the site.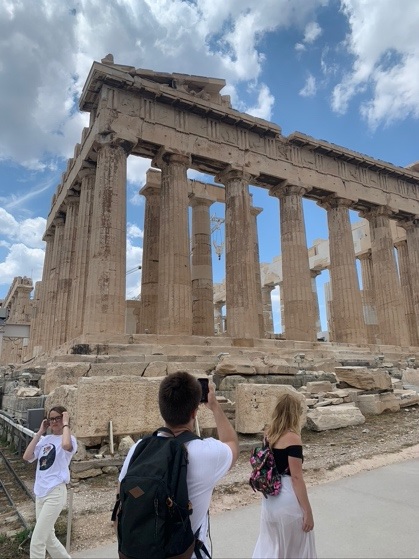 The city of Athens, a well-known tourist destination that was just entering summer vacation season, was full of travelers from all over the world, in particular from North America. However, this was different from the pre-COVID-19 times because there were almost no tourists from China who usually visited the tourist sites in large numbers. Furthermore, as might be expected, nearly no one wore a mask, Restaurants were no exception.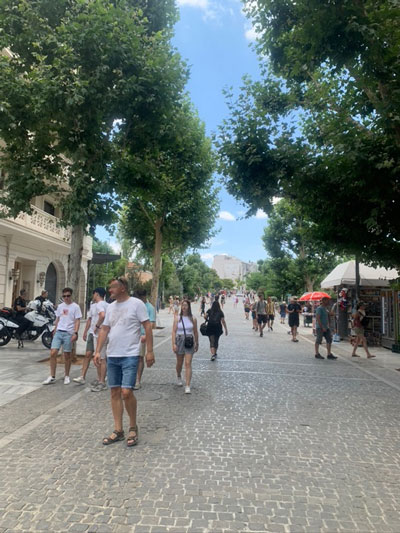 The photograph shows tourists near the Acropolis.
Thinking that Omicron infections in Greece would already be declining, I checked a database for the number of new Omicron infections for that day. The data for Greece indicated around 1,500 infections to 1 million people while the number in Japan was 700 to 1 million. In sum, the situation in Greece regarding Omicron infection was not any different from that in Japan.
At the OMEP Conference, the situation was similar—only about one in ten people wore a mask—and tourists did not seem inclined to do so either.
It was the second time for me to participate in the OMEP international conference. The organization and management are rather relaxed, so there were times when the master of ceremonies had not yet arrived on site or an unscheduled talk was suddenly given. The program was, however, very rich and I was also impressed with the content that differed greatly from that of conferences in Japan on early childhood education and related subjects.
I will introduce the issues discussed at the conference in another oportunity. Here, I would like to discuss differences in the response to COVID-19 and action taken and my experience until I arrived back at Narita Airport in Japan. The temperature in Athens was high during the day, but the cool, dry weather in the evening required long sleeves and felt refreshing. It was hard to leave a city that was liberated from mask-wearing and offered such a refreshing atmosphere.
What's more, taking the return flight home meant going through another "not refreshing" and unpleasant procedure of being tested. According to the current requirement, all those returning to Japan from abroad must have proof of a negative result on a PCR test taken within the last 72 hours.* The small group traveling from Japan to Athens included Prof. Mari Mori who had worked with us on the CRN project "Early Childhood Education and Care at a Glance ECEC Matrix 2020 of Various Countries and Regions-." With much experience abroad, Prof. Mori quickly found a clinic in Athens that gives PCR tests, so I decided to join the group to receive the test, too. Two days before returning to Japan, 7 or 8 of us from Japan managed to get tested.
Due to the large crowds, we had to wait two hours to check in at the airport in Athens before we finally took off safely. We flew over the Swiss Alps that are home to glaciers in the enchanting Tyrol region. After functioning in the cool and refreshing atmosphere for a short time without a mask, we arrived at Narita Airport after a long 14-hour flight. Flying over Russia is usually the shortest route, but due to the invasion of Ukraine by Russia, the flight changed course and managed to safely fly along the southern border of Russia (over Switzerland, Rumania, the Black Sea, Georgia, Kazakhstan, China, South Korea, and arriving in Narita, Japan).
However, it took quite a while before I was actually able to set foot on Japanese soil. Unlike usual checkups, there were long meandering lines in the airport. This also involved downloading an indicated application, and then waiting in line for nearly an hour to pass through a number of checkpoints that were not explained before it was possible to actually enter Japan.
Based on my experience in Athens and at airports in Europe, Japan, where the circumstances of the COVID-19 pandemic are not significantly different from elsewhere, seemed to be a fairy-tale country. Japan has the highest number of new Omicron cases and some readers may think that nothing further can be done. However, on the day that this number was reached, I would like to add that Japan was 14th when the number is viewed on a per capita basis.**
---