Survey features
Benesse Educational Research and Development Institute (BERD) established a research group in 2007 to discuss "young children and the media" from diverse perspectives, and has carried out continued research and discussion with specialists in development psychology, pediatrics, etc. With evidence-based discussion at its core, this organization collects and analyzes associated literature and advanced examples, and conducts research on the current situation of media use by children and parents from the perspective of child-rearing support. Information on our past activities is available on our website (only in Japanese).
This survey was conducted to reveal the current situation of media use by children in their daily life and parental awareness amid the rapid spread of smartphones and tablet devices in recent years that has made them indispensable in daily life.
The features of this survey are as follows:
Provides a broad perspective on current media use by families with children
The survey provides a broad view of the basic situation of media use by infants and parents, including ownership rate and the content of applications or software used/watched by children on media such as smartphones, tablets, console video game players and handheld players, in addition to TV programs or videos/DVDs.


Examines differences in media use by age group of children
This survey targets parents with children aged between 6 months and 6 years old. It examines differences in how children use various media in daily life and parental involvement and awareness, according to the children's age.


Examines how parents themselves use media
By understanding how parents themselves use media in parenting and how it varies by age, the survey provides a view of media use by children from diverse perspectives.
Survey overview
Theme
Current situation and awareness of parent-child media use during childhood
Method
Mail (Self-administered questionnaires were distributed and collected by mail)
Period
March 4 - 31, 2013
Subjects
3,234 mothers with firstborn children aged 6 months to 6 years

*Mailed to 10,010; effective response rate: 32.3%
*Breakdown of children's age: 6-12 months (569), 1 year (521), 2 years (436), 3 years (448), 4 years (438), 5 years (421) and 6 years (401)
Survey area
Tokyo, Kanagawa, Chiba, Saitama (Tokyo metropolitan area)
Survey items
Media ownership; frequency of weekly media use by child, amount of time and time of day; status of application or software use; family rules on media use; parents' awareness of child's media use or applications and software; parents' media use; community involvement; parenting awareness, etc.
Note: This survey solely analyzed the mothers' responses, and the percentage was calculated using the applicable effective responses to each question as parameters, rounding off to the nearest tenths. Consequently, the sum of the percentage may not add up to 100 in some cases.
Basic attributes of samples

Figure A-1: Gender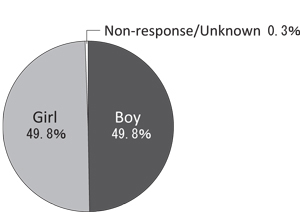 Figure A-2: Age

Figure A-3: Number of sibling(s)

Figure A-4: Birth order

Figure A-5: Child-care facility use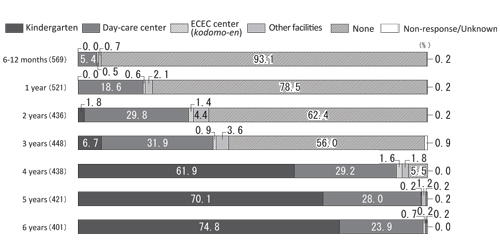 Figure B-1: Age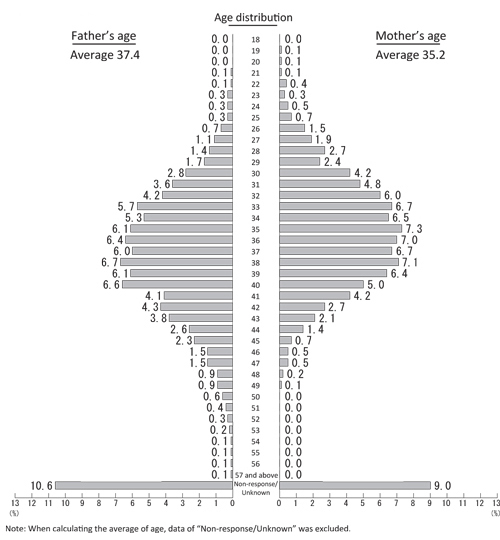 Figure B-2: Mother's employment condition

Figure B-3: Father's educational qualification

Figure B-4: Mother's educational qualification


Figure C-1: Area of residence

Figure C-2: Family member(s) living together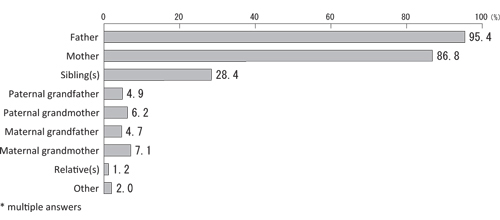 Figure C-3: Household income