Greetings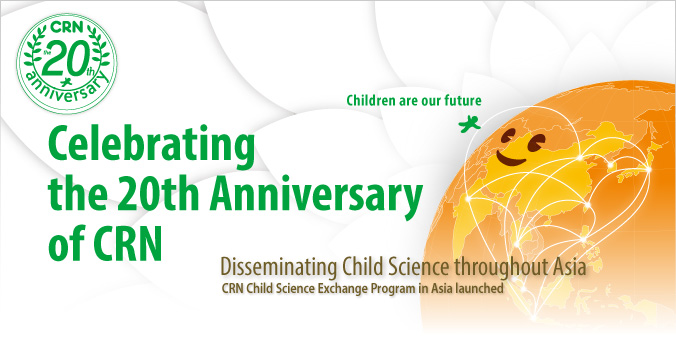 Carrying on the Legacy of Dr. Kobayashi's Foresight and Courage
Child Research Net (CRN) has reached its twentieth year. Children are our future, and as our mission, CRN will continue to be a forum for the free exchange of views and forward-looking thinking--a place where those who are involved with children in various capacities can engage in discussion and offer ideas that open up new possibilities.
When pondering widely about the future direction of CRN, I am always struck by the amazing foresight and vision of CRN's founder, Dr. Noboru Kobayashi.
Twenty years ago, when the internet was not as widespread as it is today, I wonder how Dr. Kobayashi came up with the idea of using the internet to connect people all over the world who are concerned about children. And what is the secret of this incredible power to carry out his vision and make it a reality? As his successor at CRN, I ponder these questions and try to learn from his example.
Recently I had a chance to have a round table talk with Dr. Kobayashi about when he was a young man. I felt that I finally understood the source of his foresight and the practical ability to get things done.
Soon after WWII ended, he began to think about studying in the United States where medicine and medical care were far more advanced than in Japan. He and a group of medical school students got together to discuss this possibility. Studying abroad, however, involved long absences from one's affiliated medical institution, and this made the students anxious about whether they would still have a position upon returning to Japan. As a result, among his classmates, only two students, including Dr. Kobayashi, decided to study in the United States. Dr. Kobayashi told me calmly that he quite simply wanted to see what the field of pediatrics was like in the United States, a country that had so overwhelmingly defeated Japan in the war.
Behind his dispassionate way of speaking, however, I sensed that I had seen a quality that explained his farsightedness.
What was it? I thought it was courage.
Dr. Kobayashi's classmates also wanted to experience and study the latest medicine in the United States. In the end, however, only two students, including Dr. Kobayashi, had the courage to overcome their concerns about the stability of their positions upon returning to Japan.
A word similar to senkensei or "foresight" in Japanese is senshinsei, which means "a spirit of innovation." The words sound alike, but the meanings are completely different. In the case of senshinsei or a spirit of innovation, the subject is already considered to be active at the forefront of a certain age. A subject of foresight, however, has not yet been evaluated at all. Foresight requires the courage not to be fearful of failure and difficulties.
As stated in the preface, I wish to introduce cutting-edge and farsighted ideas and knowledge in the field of child studies. CRN has developed and grown under the visionary leadership of Dr. Kobayashi over the past twenty years, and now as his successor and director of CRN, I am emboldened by his courage and hope to meet these upcoming challenges with determination.
Yoichi Sakakihara
Director, Child Research Net (CRN)

On the 20th Anniversary of the Founding of Child Research Net
Twenty years have now passed since Child Research Net (CRN) was established in 1996. Looking back, I see that the idea of CRN began when I attended the international conference "Children at Risk" held in Bergen, Norway in 1992, which was co-sponsored by the Norwegian government and the Norwegian Center for Child Research. After the conference, about twenty researchers and those working with children were invited to stay in a hotel in a beautiful fjord for further discussion. We came to a decision to use the internet to link researchers and practitioners around the world to promote dialogue and find better solutions.
Children are born as "biological beings" and grow into "social beings." Since the 1970s, I had been thinking that we needed to address children's issues by integrating the human sciences and natural sciences in an interdisciplinary manner--we needed "Child Science." In order to promote Child Science and respond to international trends that had started in Bergen, in 1996, the year I retired from the National Children's Hospital, I established CRN with the support of Mr. Soichiro Fukutake, then President of Benesse Corporation (currently, Honorary Advisor of Benesse Holdings).
This year marks the twentieth anniversary of CRN and the twenty-first century has been hailed as the century of Asia. I hear that CRN will begin a new program called the "CRN Child Science Exchange Program in Asia." Under the visionary leadership of Director Yoichi Sakakihara, I am certain that CRN will continue to play an active role in this field, and I hope that you will all continue to support CRN.
Noboru Kobayashi
Honorary Director, Child Research Net (CRN)