CRN has been hosting the the Child Science Exchange Program in East Asia since 2007.
In the Child Science Exchange Program, researchers in Japan and other East Asian countries lecture on and discuss child growth, development and life environment. Attended by specialists, students, and parents, the program is a forum for interdisciplinary learning and exchange. Discussions highlight both differences and commonalities in East Asia and possible solutions. Past venues include Shanghai, Changsha, Tokyo, Hangzhou, Beijing, Zhengzhou, and Taipei.
We have published a booklet on the history and summaries of each program held over the years. Please take a look!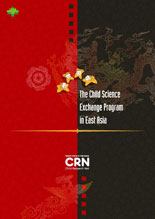 Full Text

(PDF:10,287KB)