Unexpected Number of Applicants and Students

Although Children's University Kawagoe caters to children between the fourth and the sixth grade, it takes as its model the higher learning of university, and for this reason, these elementary school pupils are called "students" as if they were indeed in university. Applications were accepted from February 20, 2009. The school boards of Kawagoe City and Tsurugashima City, which support the goals of Children's University, gave their full cooperation to the publicity and application process. They assisted in distributing brochures through local schools to about 11,000 students in these three grades.
Applications could be made by either fax or e-mail. Tuition, including both the entrance and lesson fees, was set at 1000 yen. Expecting fifty applicants, it was decided to accept them on a first-come basis, but the rush of applicants began as soon as the application period started, and within three days, 120 children had applied. The University then decided that it would not be educationally defensible to limit the number of children who could study at the Children's University, considering they were willing to study. As a result, all 120 applicants were initially accepted, but the final number came to 116 students after a few junior high school applicants were found ineligible. To ensure the safety of the children to and from school, parents or guardians were required to accompany the children and allowed to sit on the classes.
Cap Presentation at Entrance Ceremony

The entrance ceremony was held at 2:00 p.m. on Saturday, March 14, in a large lecture hall on Campus 1 of Tokyo International University in Matoba, Kawagoe City. Despite the light rain and strong wind, a crowd of parents and children, full of expectations, were waiting when the hall opened its doors at 1:30. A special character dressed like a bumblebee and aptly named Manabee (Learning Bee), the mascot of the 21st Continuing Education Festival in Saitama this autumn (2009) to be held under the sponsorship of Ministry of Education, Sports, Science and Technology, made a special appearance to entertain those near the reception desk.
The new students filed into the hall just before 2 p.m., followed by their parents who were seated in the back. The podium was decorated with the blue school flag. Kenichi Enatsu, Chairman, Katsuya Endo, President, Children's University Kawagoe, Ichiro Sakai, Director-General sat on the stage in caps with yellow tassels and black gowns, adding to the solemnity of the atmosphere which resembled a university entrance ceremony.
The ceremony began with a performance by the Kawagoe Children's Choir, now in its fiftieth year. In white berets and navy blue blazers, the seventy children sang "Furusato," "Sakura, Sakura," and "Kojo no tsuki" in beautiful harmony to welcome the new students.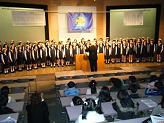 The special guests wearing a red flower on their chests gave congratulatory speeches. Hideo Yamaura, Educational Director of Kawagoe City encouraged the students to talk about their dreams for the future with the university professors. Shuhei Arai, Educational Director of Tsurugashima City, asked the students to constantly pose the question "why" in their daily lives.
In this opening address, Mr. Endo, Director of Children's University Kawagoe, made the following statement: "Congratulations on entering the first Children's University in Japan. At this university, I hope you will experience the fun of coming to know what you don't know and to think about how what you have learned is related to your daily life."
The lyrics of the school song written by Shiori Komuro, member of Children's University Kawagoe, who has twice been awarded the Rofu Miki Prize, was then introduced for the first time. It wonderfully expressed the purpose of each of the university's three departments: Question (Hatena) Science, Living (Ikikata) Science, and Hometown (Furusato) Science. To give you an idea, it started out with:
In your classes where you ask why
You will find out why
And you will learn
Knowledge that dazzles
And your heart will leap for joy
For a world of the unknown
The melody for this lyrics will be made after the composer has been decided.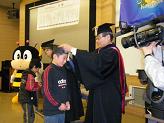 Next, the new students received their student IDs and caps. With Manabee-kun looking on, the incoming students stepped up one at a time as their names were called to receive a student ID from the University President, after which the Chairman placed a black mortarboard on their heads made from cardboard by Toshihiko Shibuya, a young staff member; these mortarboards looked exactly like the real caps worn in academia. With looks of slight embarrassment, the young students' faces shone with happiness.
Wearing their caps, the students were then seated and Kawagoe Children's Choir ascended the stage. Former choir member, Rika Ono played "Encounters" on the flute and other quiet works that she had composed. To welcome the students, the Choir followed with a lively rendition of "Radetzky March," a well-known march that the Vienna Philharmonic Orchestra always plays at the end of their New Year's concert. The conductor, Kozo Kumagaya, turned around to encourage the audience to join in, and their hearty clapping in time to the music made for an impressive finale.
The ceremony ended with everyone on stage for a commemorative photograph. The rain had stopped and the sun was beginning to shine.
Why? Classes Begin

Classes were held in turn for three days from Friday, March 20, at three universities in the city. Children's University's curriculum has three basic areas: Question (Hatena) Science, Living (Ikikata) Science, and Hometown (Furusato) Science, but for the first year of the project, it was decided to only offer Question (Hatena) Science classes.
Early in the project, Director-General Ichiro Sakai had met with professors at three universities to explain the content of similar classes at children's universities in Germany and received suggestions from them. Together, they then decided the themes for each class, which respond to the goals of Children's University Kawagoe.
March 20 Toyo University, Engineering Department

(1) Why can airplanes fly?, Professor Osamu Mochizuki
(2) Why are fireflies and fish so interesting?, Professor Yoshitaka Fukui



March 21 Shobi University

(1) Why is wrong to take a life?, Professor Keiko Irako, Faculty of Policy Management
(2) Why do we decide by majority?, Associate Professor Eiji Mashita, Faculty of Policy Management



March 22 Tokyo International University

(1) Why do seats on the train fill up from the corner?, Professor Takashi Kakuyama, School of Human and Social Sciences
(2) How can you draw a Greek temple in ten minutes?, Professor Yukitsugu Otsuki, School of Human and Social Sciences
All these classes are designed to present answers to the "why?" question, information useful in life, and ways to understand the mysteries of human behavior--they are interesting enough to provoke adult curiosity. Classes last 45 minutes, comprised of a 30-minute lecture and a question and answer session and a time for students to write their impressions on the class. Since university professors usually give 90-minute classes, talking with elementary-school students for 30 minutes would require considerable adjustment on their part. This is what concerned Mr. Sakai, so he had Professor Mochizuki, who was first, hold a demonstration class.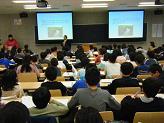 Classes involved using PowerPoint presentations projected on a screen, not a method used in elementary schools. Although some professors slipped into difficult or technical language, the use of concise explanations, photographs, and graphics promoted the students' understanding. The parents and guardians who were sitting in the back took notes and followed the lecture attentively.
Paper Planes and Probability Formulas

Here are some short descriptions of the classes.
Using images and photographs, Professor Mochizuki's class on "Why can airplanes fly?" covered the history of humankind's attempts to fly. His lecture started with the evolution of the archaeopteryx, a prehistoric bird that appears to have been both bird and dinosaur, and led up to the development of the present-day airplane. At the end, Professor Mochizuki taught the students how to make paper planes so that they fly well. The students, as if expressing their dreams of flying through the paper plane, then went into the hall to test-fly their planes during the break.
During his "Why do we decide by majority?" class, Associate Professor Mashita, started writing a difficult and complicated formula using the symbol Σ for the probability of a desirable outcome by majority decision. The students were dumbfounded--it was truly a college-level course. As soon as the class was over, however, the students gathered around him and had him write down the formula in their notebooks. It almost looked like a celebrity book-signing session.
In "Why do seats on the train fill up from the corner?" Professor Kakuyama had two students come to the front of the class, stand apart and walk toward each other. He asked them to say "stop" when the other had come too close. He explained this as the experience of personal space in humans, and the students experienced one of mysterious workings of human psychology.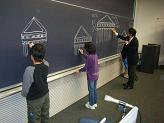 In the last class, Professor Otsuki picked three students to draw a Greek temple on the board. As he gave instructions beginning with the roof, columns, and base, he explained why the Greeks had thought of such construction. Sitting at their desks, the students listened and drew their own temples. Professor Otsuki then noted that Greek temple construction combines different shapes, which reflects their sense of harmony and spirit of democracy. At first, the students worried about whether they could actually draw a temple, but aided by Professor Otsuki's careful instruction, their temples turned out nice.
The students were free to choose whatever classes they wanted to take. After completing each one, they received a certificate of completion from the professor. Initially, 116 students were expected, but the total turnout came to 109 because seven were absent due to the flu, etc. The number of students who took classes over all three days was 66.
Mysterious! That's Why! Wow!

Students wrote and submitted their impressions afterwards. Reading these comments, it is possible to discern what the professors taught and what the children learned. Below are a few of their impression on each class.
* People had always a dream to fly in the air, and it is a strange feeling to think that that long lasting dream brought a plane right here! (Girl, grade 6)
* The class on fireflies and fish really taught me a lot. Even though the Koaze River flows right behind the school, I even didn't know what kind of fish lived there. (Boy, grade 6)
* Professor Irako gave a thorough explanation of why we should not take the life of another person or our own because life is precious and it is supposed to continue. I will value life and living from now. (Girl, grade 4)
* In the class on majority, I learned that deciding by majority results in the lowest probability of dissatisfaction! It made sense! The explanations and the way the class was conducted were interesting! It was a lot of fun. (Girl, grade 5)
* In the class about sitting on the trains, I learned that each person has a "personal space" that depends on the particular place and other person. I will look into this the next time I take the train. (Girl, grade 5)
* In the lesson on Greek temples, I was surprised to learn that Greek temples are a symbol of democracy. (Boy, grade 5)
In parents and guardians' impressions, they wrote they had talked to their children about what they had learned after returning home and were happy that lecture became a topic of conversation among the family. This will probably lead to more intellectual conversations at home.
On the other hand, quite a few people felt that class time was too short. At Children's University Kawagoe, we felt this, too, and will make this question a topic for discussion next time.
On April 18, the Committee for School Affairs met to plan for classes in the next fiscal year. According to the plan, applications will be accepted from September for the year lasting from October to March. Classes will be held once a month with the tentative schedule calling for six classes for the Question (Hatena) Science, four classes for Living (Ikikata) Science, and two for Hometown (Furusato) Science. There are also plans for a summer camp.
The NHK Serial TV Drama "Tsubasa (Wings)," set in Kawagoe has already started. We hope that Children's University Kawagoe will also spread its wings and take off around Japan.
Homepage of Children's University Kawagoe: http://www.cuk.or.jp