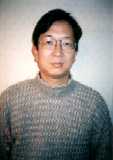 Born in Kobe, Mr. Matsuda graduated from the Economics Department of Kobe University in 1982. After working in a transport company, he entered the graduate school at Seiwa University to specialize in early childhood education. Under Prof. Masako Shoji, he researched the shared characteristics of the philosophical underpinnings of Freibel toys and LOGO language, graduating in 1988. With an academic research grant from a foundation to promote private universities, he worked from 1990 as a research instructor in the media laboratory at Seiwa University graduate school, comparing the possibilities for computer toys with traditional toys (Freibel toys, Montessori educational toys). He particulary focused on the interface of the child his/her environment.

Mr. Matsuda is currently director of Toyonaka Bunka Kindergarten, and oversees practical training at the Seiwa University Department of Education and the "Children and Media" project at the Seiwa University graduate school. He also directs the outdoor activities at Shoei Nursery School, and is a driving member of the Mother and Child Mutimedia Promotion Society (Mouse House). In addition, he runs the IL Campground (a campground for children), Forest Kindergarten (a "building-less" kindergarten), e-kids (a children's digital club), e-mamapapa (a parent's digital club), and an education and media research center. He specializes in researching the environments for raising young children, the relationships of children and media, and children and nature.

His main publications include, Computer Use as a Toy-CAP (Computer Assisted Playing); Computers in the Pre-School Environment; Creating an Interactive Picture Book of Outdoor Activities and Research into Its Use; Creative Activities for Digital Media in Children's Education; Using Computer Networks in the Kindergarten; Sharing Educational Information through Computer Networks-Building a Kindergarten Network; Using the Internet in Young Children's Education; and Young Children's Communication and Self-Expression in the Technological Era.

Dr. Matsuda has supervised the creation of software such as Orgot, a music software program for children (Megasoft Co.), Gulliver, a space recognition software program for children which received an Edutainment Contest award (Megasoft Co.), and a software program to verify multimedia literacy, tentatively titled Korokoro Island (Yano Electric).