| | | |
| --- | --- | --- |
| | | This is a picture of Itsukushima Shrine, and Miyajima's Ootorii gate. |
You can go to Miyajima by these ferries. There are ferries run by JR West Japan, or the ferries run by Miyajima Daikisen. Both ferries take about 10 to 15 minutes of sailing.
There are wild deer everywhere in Miyajima. Visitors should keep in their mind not to feed them, no matter how adorable they are.
By going a bit further in to the Miyajima Island, visitors can see good and old Japanese culture.
This is one of row houses, and there are stores such as café. In the background is a "Gojuunotou", what is five story pagoda.
These are the pictures of Itsukushima temple. It is one of UNESCO's world heritages. It is said that it was built in 593. It is Japan's national treasure, as well as it is the world heritage. It has been rebuilt few times for the disasters. However, it is said to have the same style as it was when it was first built.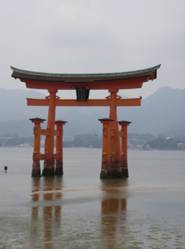 This is the Ootorii gate. It is about 16.6 meters in height, and weight about 60 tons. The gate is being rebuilt many times, and the one that has been seen is the 8th one built in 1875.
It is not planted in to the sea, but is pressed into the sea bottom by its own weight. Also, its shape helps the gate keep in balance, not making it fall or move.
The sight changes depend on whether the sea is at full tide, or is at the low tide. When it is at low tide, visitors can go on the sandy beach and go right next to the gate, or enjoy shellfish gathering.
Hiroshima is well known for its horrible history of atomic bomb, dropped by America. However, there are many good places in Hiroshima to visit, and Miyajima is surely one of them. It is one of the UNESCO world heritages, and contains many beautiful cultures of Japan. Even without Itsukushima temple and Ootorii gate there are many places to visit in Miyajima, such as other temples, museum and even an aquarium. Miyajima is not only a tourist resort, but there are people living there, and for so, there are post office and fire department. In the winter, oyster is famous in Miyajima. It is very interesting only walking in the island.
It is highly recommended to take hours visiting the island. Walk around and enjoy as many places as possible, feeling the culture in Miyajima.