Omikoshi Festival
In summer, festivals are held at local shrines. They were religious events to worship the gods and to ask the Gods for the bumper harvest. I took these photos when I just came back from America to send to my friends in America to introduce about Japan. I felt it was unique to carry the heavy Mikoshi, which is a portable shrine, on the street. They wore headbands and happi coats shouting "Wasshoi, wasshoi!"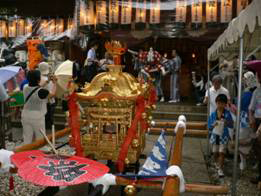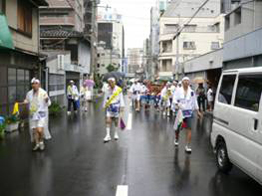 Take off shoes at home
In America, everyone goes inside the house without his shoes off. However, in Japan, everyone takes off his shoes before entering the house, even if the room is Western-style. The picture on the right shows me without shoes in the Western-style guest room in my house in Japan. When I took off my shoes in America, everyone was surprised because American doesn't have such a custom.
Okuizome
Okuizome is a ceremony celebrating a baby's weaning. Okuizome is performed 100 days after birth. The child's first set of chopsticks, rice bowl, and some other tableware like in the photo below are presented to the child. You can see the Sea Bream on the right in the photo, which is often used in celebrations or religious rituals because its Japanese name is 'tai' and sounds like the word 'medetai', meaning "auspicious". When I came back from America, I saw this photo and thought that in America there isn't any ceremony like this as far as I know and I was surprised that every country has different culture.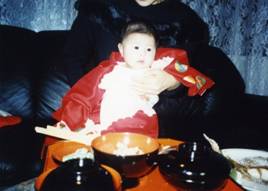 Shichi Go San (7 5 3)
Parents take their children who are 3, 5, or 7 years old to shrines on November 15. Children wear kimono, suits, or dress. Parents pray for their growth and health at shrine. In America, they don't wear kimono and they don't have events like this so I thought that this event was very unique.