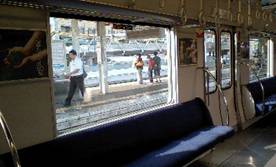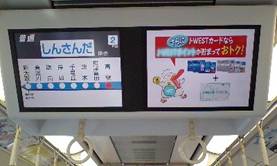 TRAIN
Many people in Japan use mass transit, especially train to go to their work places and schools. While the ride there is a polite announcement and a screen to let us easily know where we are heading. In these days, there are railway cars only for women which were made for reducing molesters in the crowded train.
TICKET MACHINE
We use this machine to buy tickets. It is very useful because there are buttons like, (1 Adult & 1 Child) (1 Adult & 2 Children) (2 Adults) which means that we can just push one of those buttons to receive the certain amount. It helps you when you are in a hurry.
We can also buy "season ticket" and "connection ticket".
There is a RED button to call the station attendant, whenever you need help.
PLATFORM
As the station gets bigger, the number of lines increases. For example, in Kyoto there are lanes up to 33!! There are benches to rest and small stores to buy drinks and snacks. As you can see on the left side of the picture, that is where our tickets are inspected. There is a polite station attendant who will guide you when you are confused.



STATION
There are department stores and restaurants in the station. For example, in Kyoto there are many shops for souvenir. Kyoto station is developing more now.