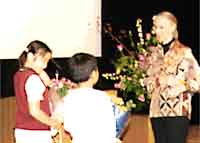 Child Research Net is honored to present Dr. Jane Goodall, world famous primatologist, in giving hope to the children of Japan. Dr. Jane Goodall's talk was inspiring and a valuable message to young children who will determine the future of Japan and the rest of the world. If you missed the lecture which was held in Tama City on October 6, 1997, you can now experience it here on our page! We hope you are able to enjoy it as much as we enjoyed having Dr. Goodall and hearing her wonderful talk.
DR. GOODALL'S MESSAGE TO THE CHILDREN OF JAPAN
I am looking forward to sharing some of my adventures with the chimpanzees in Africa. I also want to talk about some of the problems in the world -- trees being cut down, chimpanzees and other animals losing their homes, pollution and so much cruelty and fighting. It seems very depressing, but if every single person does something to help, it can make the world around us a better place for animals and human beings as well.
Do you dream about what you would like to do when you grow up? I did. I wanted to go to Africa and live with animals. Everyone said it was impossible but my mother used to say, "Jane, if you work hard, take advantage of opportunities and never give up, you will find a way", and I did. So, don't let anyone tell you you can't succeed. Follow your dreams.